Yamaha MX88 Music Synthesizer
The MX88 music synthesizer is the complete solution for the modern piano player, aspiring music producer or live performer. Featuring an 88-note weighted keyboard, MX88 boasts realistic piano touch and sound thanks to over 100 years of piano manufacturing experience.
MX88 offers modern synthesizer technology based on the legendary Motif Sound Engine and features a wide range of sounds from classic, authentic instruments to modern, cutting-edge synths. Computer and iOS connectivity is easy with the integrated class-compliant USB audio/MIDI interface, making MX88 perfect for producing music using Cubase AI (included.)
MX88 also unlocks Cubasis LE and FM Essential on iOS devices. The 88-note, GHS weighted action is heavier in the low keys and lighter in the high keys, just like an acoustic piano. The special matte black key tops are designed to absorb moisture and remain tactile after extended use without becoming slippery.
In The Box

(1) Yamaha MX88 Music Synthesizer Black
(1) Pedal
(3) TRS to TRS Cables 15FT
(1) Pedal
(1) Keyboard Stand.
(1) Yamaha Cover.
(1) Bench
Yamaha VCM FX engine onboard
In addition to a massive MOTIF XS soundbank, MX88 is equipped with Yamaha's VCM FX engine, which meticulously models vintage effects at the circuit level. EQs, phasers, flangers, wah-wahs, and more are all on the menu here, letting you instantly tap into the coveted sounds of the 1970s.
16-part multitimbral, 128-note polyphony
Your MX88 is 16-part multitimbral and spec'd with 128-note polyphony. Electronic musicians at Sweetwater know how critical this is. These features build up dense sequences and play them without fear of dreaded note-stealing or sounds cutting off. This makes the MX an ideal tone generation solution for onstage performance and live playback of MIDI tracks off your DAW.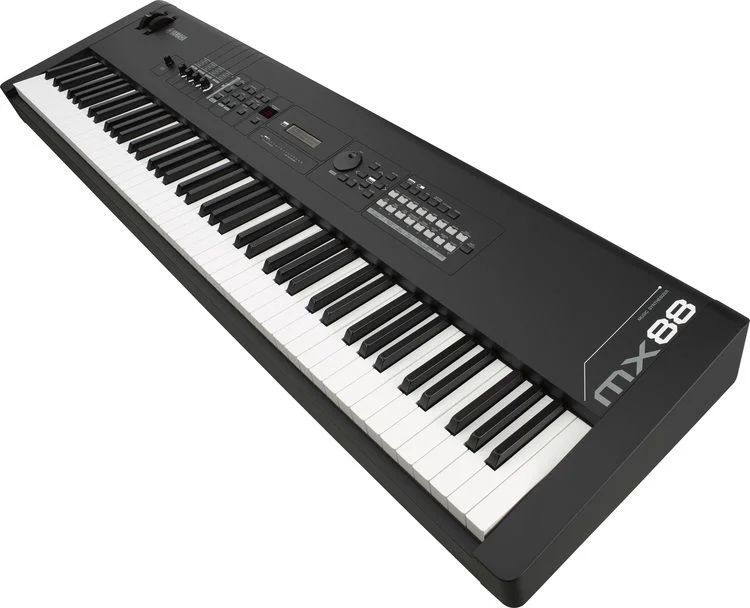 Real-time hands-on control over DAW and VSTs
The MX's top panel is equipped with solid, great-feeling knobs and buttons for real-time hands-on control over its internal sounds, external VST instruments, and DAW parameters. The streamlined interface lets you quickly find, edit, and store your sounds onboard. The MX88 comes with template editor software, so you can customize the interface to your preferences. There are advanced integration templates for most popular DAWs, and when used with Cubase, an AI knob lets you control any parameter with the MX's large rotary encoder simply by mousing over it.
Included music production suite
Yamaha's MX series ships with a complete music production software suite that includes Steinberg Cubase AI. Cubase AI gives you 64 MIDI tracks, 48 audio tracks, built-in VST effects, and even notation, so you can build complete productions. The MX88 also comes with Steinberg Prologue and Yamaha's YC-3B organ emulation to get you rolling.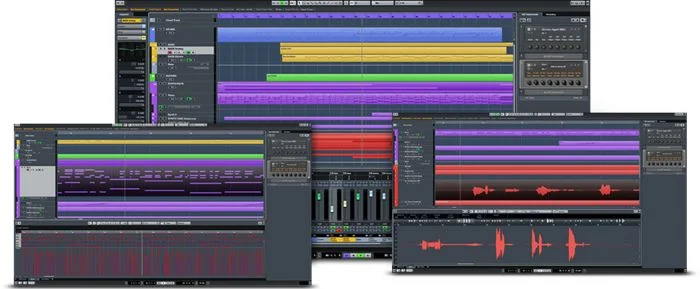 Yamaha MX88 Features:
88 Graded Hammer Standard keys are heavier in the lower register and lighter in the higher register for real piano feel
Matte black keytops absorb moisture and remain tactile after extended use without becoming slippery
FM Essential expands your sonic arsenal with iOS FM synthesizer app that includes drum loops, FX, and more
Class compliant USB audio/MIDI for plug-and-play connectivity
Layer, zone, cycle, switch, randomize, and control up to 8 elements per voice with Yamaha's powerful MOTIF sound engine
VCM (Virtual Circuit Modeling) re-creates the sound and behavior of vintage signal processors and FX
128-note polyphony for dropout-free live performance or with full 16-track sequences
Damper Resonance DSP models grand piano sound with dampers off the strings
Record/play back stereo audio and 16 channels of MIDI with a single USB cable and no external devices
DAW Remote controls transport, mixer, and software instruments from the MX top panel
USB-to-device port for connection of USB flash drives for loading and storing data
1/8" aux line input for connection of tablets and mobile devices
Auto power off shuts down after period of inactivity, saving energy
Includes Cubase AI, Steinberg Prologue, and Yamaha YC-3B
YAMAHA MX88 MUSIC SYNTHESIZER ESSENTIALS BUNDLE
Brands Yamaha
Product Code: Yamaha MX88
Availability: In Stock